| | |
| --- | --- |
| The Pacific War Online Encyclopedia | |
---
---
graduate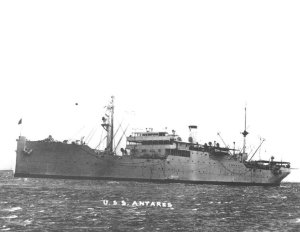 U.S. Navy. Via Wikimedia Commons

Tonnage

11380 tons standard displacement


Dimensions

401' by 54' by 24'
122.2m by 16.5m by 7.3m


Maximum speed


11 knots

Complement

197
Machinery

1-shaft General Electric Curtis turbine (2500 shp)
3 Babcock and Wilcox header-type boilers

Bunkerage

980 tons

Modifications

Armed with 2 5"/51 guns, 4 3"/50 AA guns, 8 20mm Oerlikon AA guns by the end of the war.

The Antares was built in 1922 as a miscellaneous auxiliary. She was reclassified as a general stores issue ship in 1940.
Antares was present during the attack on Pearl Harbor. She was just entering the channel when a Catalina spotted a Japanese midget submarine attempting to follow her into the harbor. Ward was nearby and sank the midget submarine with gunfire and depth charges.

References
Navsource.org (accessed 2012-12-1)

---