| | |
| --- | --- |
| The Pacific War Online Encyclopedia | |
---
---
graduate
Barrowclough, Harold Eric (1894-1972)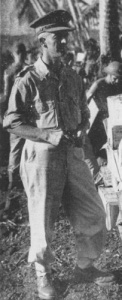 U.S. Army. Via ibiblio.org

Barrowclough briefly studied law before enlisting in the New Zealand Expeditionary Force in January 1915. He received a commission in May 1915 and distinguished himself in the fighting near Flers in France in the First World War. He then returned to civilian life to complete his law educaton and establish a successful career in Dunedin. However, he remained a member of the Territorial Force (reserves) until 1931, when he resigned to become a partner in an Auckland law firm. However, he remained interested in military affairs, helping found the New Zealand Defense League and becoming involved in criticism of the government's defense policy. He rejoined the armed forces as a brigade commander in February 1940.

Barrowclough's brigade fought in Greece in 1940 and at Sidi Rezegh in North Africa, where Barrowclough again distinguished himself. Recalled to New Zealand to take command of the Fiji garrison, he found himself without an assignment after the garrison commander took ill and had to be replaced at once by an officer closer at hand. Instead, Barrowclough was given command of 1 New Zealand Division, the garrison for North Island. However, he took command 3 New Zealand Division, the New Zealand expeditionary force for the Pacific, after its first commander was killed in an accident.
Barrowclough's division participated in the mopping up at Vella Lavella and invasions of the Treasury and Green Islands. The Green Island operation was carried out by a joint force of 16,500 troops, of which two-thirds were Americans, an arrangement made possible by his good working relationshps with the Americans. However, a shortage of manpower caused the New Zealand government to disband the division in October 1944.
Barrowclough returned to the law after the war, but had only indifferent success rebuilding his firm. However, he was appointed Chief Justice of New Zealand and helped establish the Permanent Court of Appeal in 1957.
Crawford (2010) states that he "had a reserved and sometimes rather stern manner, but was a modest and kindly man of the utmost integrity.... A determined man, he did not suffer fools and was prepared to advance his point of view forcefully"
Service record

| | | |
| --- | --- | --- |
| 1894-6-23 | | Born at Masterson |
| 1915 | | Enlists in New Zealand Expeditionary Force |
| 1915-5 | Second lieutenant | New Zealand Rifle Brigade |
| 1915-10 | Lieutenant | |
| 1916-3 | Captain | |
| 1917 | Major | |
| 1918-8 | Lieutenant colonel | Commander, 4 Battalion, Rifle Brigade |
| 1919-7-29 | | Reserves |
| 1924-7 | | Commander, 1 Battalion, Otago Light Infantry Regiment |
| 1930-8 | Colonel | Commander, 3 New Zealand Brigade |
| 1931 | | Retires from reserves |
| 1940-2 | | Commander, 6 New Zealand Brigade, Greece |
| 1940-5-1 | Brigadier | |
| 1942-4 | Major general | Commander, 1 New Zealand Division |
| 1942-8 | | Commander, 2 New Zealand Expeditionary Force and 3 New Zealand Division |
| 1945-11 | | Retires from active duty |
| 1953-11 | | Appointed Chief Justice of New Zealand |
| 1966-1 | | Retires |
| 1972-3-4 | | Dies at Auckland |
References
Crawford (2010; accessed 2011-11-27)
Generals.dk (accessed 2008-4-17)
---