| | |
| --- | --- |
| The Pacific War Online Encyclopedia | |
---
---
graduate
Smith, Julian Constable (1885-1975)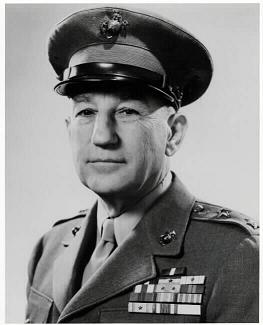 Julian Smith was born in Maryland and graduated from the University of Delaware in 1909. He was commissioned in the Marine Corps and participated in the Vera Cruz occupation. He graduated from the Command and General Staff School in 1928 and served in Nicaragua, where he injected a new sense of initiative into his command, before being promoted to brigadier general and sent as a naval observer to London in 1938-1941.

"General Julian" was promoted to major general in 1942 and was given command of 2 Marine Division on 1 May 1943. He led the division at the bloody battle of Tarawa. He subsequently became commander of the Pacific department of the Fleet Marine Force and commanding general of Parris Island Marine Base before retiring as a lieutenant general in 1946.

Smith gave those who did not know him well the impression of being a gentle, dreamy man who, when he smiled, exuded warmth from his whole person. This impression was deceiving. Smith was a capable Marine general who could impose iron discipline when the situation called for it, as it did at times in the Tarawa operation. However, his concern for his men was genuine, as was his unassuming manner. He was a superb planner and inspiring leader.

Service record

| | | |
| --- | --- | --- |
| 1885-9-11 | | Born |
| 1909-1 | Second lieutenant | Graduates from University of Delaware and is appointed a second lieutenant |
| 1912-9 | First lieutenant | |
| 1913-12 | | Panama |
| 1914-12 | | 1 Marine Brigade |
| 1915-8 | | Expeditionary duty, Haiti |
| 1916-12 | | Advance Base Force, Philadelphia |
| 1917-3 | Captain | Attends Navy War College |
| 1917 | | Instructor, Marine Officers' Training Camp (Quantico) |
| 1919 | | Cuba |
| 1920-8 | | Quantico |
| 1921-7 | | Staff, Commander, Scouting Force |
| 1923 | | Office of the Chief Coordinator, Burea of the Budget |
| 1928 | | Graduates from Command and General Staff School |
| 1930-8 | | Expeditionary duty, Nicaragua |
| 1933 | Lieutenant colonel | Quantico |
| 1938-6 | Colonel | Commander, 5 Marine Regiment |
| 1938 | Brigadier general | Naval observer, England |
| 1941-8 | | Quantico |
| 1942-10 | Major general | Commander, Fleet Marine Force Training Schools |
| 1943-5-1 | | Commander, 2 Marine Division |
| 1944-4 | | Commander, Fleet Marine Forces, Pacific |
| 1944-12 | | Commander, Department of the Pacific |
| 1946-2 | | Commander, Marine Corps Recruit Depot (Parris Island) |
| 1946-12 | Lieutenant general | Retires |
| 1975-11-5 | | Dies |
References
ArlingtonCemetary.net (accessed 2007-12-5)

---