| | |
| --- | --- |
| The Pacific War Online Encyclopedia | |
---
---
graduate
Huang Chi-hsiang (1898-1970)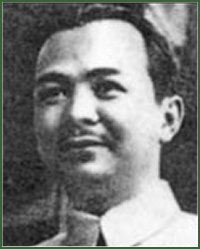 Generals.dk. Fair use may apply.

Huang Chi-hsiang (Huang Qixiang) commanded 11 Army Group prior to the Pacific War, and held various deputy commander positions during the Pacific War. His character as a general may be judged from an eyewitness report of a subordinate in 1944 (Hastings 2007):
We go the order to retreat. A mass of men, horses, carts, was streaming back. It was a shambles. I suddenly saw Huang Qixiang, our general, hurrying past us on a horse, wearing pajamas and only one boot. It seemed so shockingly undignified. If generals were running away, why should ordinary soldiers stay and fight?

Service record

| | | |
| --- | --- | --- |
| 1898 | | Born |
| 1926 | Colonel | Commander, 36 Regiment, 12 Division, 4 Army |
| 1927 | Major general | Commander, 12 Division, 4 Army |
| 1927 | | Deputy commander, 4 Army |
| 1927 | | Commander, 4 Army |
| 1928 | | Student in Germany |
| 1931 | | Acting head, Temporary Action Committee, Kuomintang |
| 1932 | | Commander, Volunteer Unit, Battle of Wusong-Shanghai |
| 1933 | | Military Commission, Fukien People's Government |
| 1934 | | Exiled in Germany |
| 1937 | | Deputy commander, 9 Army Group |
| 1938 | | Deputy chief, Political Department, Military Commission |
| 1939 | General | Commander, 11 Army Group |
| 1941 | | Deputy commander, 6 War Area |
| 1943 | | Deputy commander, Expeditionary Army |
| 1945 | | Commander, Eastern Section, Ledo-Kunming Road Garrison Command |
| 1946 | | Relieved |
| 1947 | | Head, Chinese Military Mission, Germany |
| 1949 | | Defects to Chinese Communists |
| 1957 | | Branded as right-winger |
| 1970 | | Dies |
| 1980 | | Rehabilitated |
References
Generals.dk (accessed 2011-10-20)
---