| | |
| --- | --- |
| The Pacific War Online Encyclopedia | |
---
---
graduate
Denfeld, Louis Emil (1891-1972)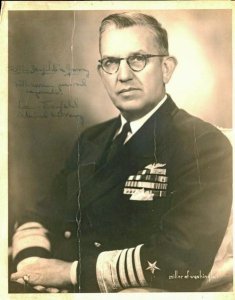 U.S. Navy. Via Wikimedia Commons.

Denfeld was born in Massachusetts and graduated from the Naval Academy in 1912. He participated in convoy escort during the First World War. He saw service on destroyers and submarines after the war and was aide to William Leahy, Chief of Naval Operations, from 1935-1937. He then commanded a destroyer squadron.
The outbreak of war found Denfeld on the staff of Atlantic Fleet Support Force. In April 1942 he was promoted to rear admiral and became assistant chief of the Bureau of Navigation (actually the Navy's personnel bureau.) He was posted to command of Battleship Division 9 in 1945 and participated in the bombardments of Okinawa and the Japanese home islands.

Postwar Denfeld was promoted to vice admiral and served as Commander in Chief, Pacific, in January 1947. In December 1947 he became Chief of Naval Operations. He led the "Revolt of the Admirals" in Congressional hearings in October 1949, arguing for continued independence of the Navy, which led to his dismissal and retirement. He then became a consultant for Sun Oil Company.
Service record

1891-4-13



Born at Westborough, Massachusetts

1912

Ensign

Graduates from Naval Academy and assigned to BB

Virginia



1917

Lieutenant

Executive officer, DD

Ammen



1918

Lieutenant commander



1919



Inspector, New England Division, Boston

1924



Ship Movements Division

1929



Aide, Chief of Navigation

1933

Commander



1935



Aide, Chief of Naval Operations

1937



Staff, Chief of Naval Operations

1939

Captain



1940



Commander, Destroyer Squadron 1

1941-4



Chief of staff, Atlantic Fleet

1942-4

Rear admiral

Assistant chief, Bureau of Navigation
1945



Commander, Battleship Division 9

1945-9

Vice admiral
Chief of Naval Personnel

1947-2

Admiral

Commander, Pacific Fleet

1947-12-15



Chief of Naval Operations

1949-11-2



Relieved

1950-3



Retires

1972-3-18



Dies at Westborough, Massachusetts

References
Arlington National Cemetery Website (accessed 2008-2-15)
Naval Historical Center (accessed 2008-2-15)

---