| | |
| --- | --- |
| The Pacific War Online Encyclopedia | |
---
---
graduate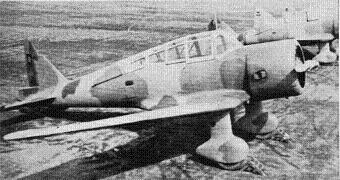 U.S. Air Force. Via Francillon (1979)
Tachikawa Ki-36 "Ida"

Crew
2
Dimensions
38'9" by 26'3" by 11'11"
11.8m by 8m by 3.64m

Wing area
215 square feet
20 square meters

Weight
2749-3660 lbs
1247-1660 kg

Maximum speed
216 mph at 5905 feet
348 km/h at 1800 meters

Cruising speed
147 mph
237 km/h

Climb rate
25 feet per second
7.6 meters per second

Service ceiling
26,740 feet
8150 meters

Power plant
One 450 hp (336 kW) Hitachi Ha-13a 9-cylinder radial engine driving a two-blade wooden propeller.
Armament
One 7.7mm Type 89 Model 2 machine gun (cowling)
One 7.7mm Type 89 Special machine gun (rear cockpit)
External stores
10 33lb (15 kg) bombs for conventional attack, or one 1102 lb (500 kg) bomb for suicide sorties
Range
767 miles
1230 kg

Production
A total of 1332 production Ki-36:

Tachikawa Hikoki K.K.: 860 Ki-36 from November 1938 to January 1944

Kawasaki Kokuki Kogyo K.K.: 472 Ki-36 from June 1940 to May 1942 (Gifu plant)

Variants

The Ki-55 was a trainer version.


The Tachikawa Ki-36 was an Army cooperation aircraft, intended primarily for battlefield observation but with some ground-attack capability. It was designed to operate from small airstrips and to be capable of maneuvering at low speeds and altitudes.

The design went back to May 1937, when the Army issued a specification for a fast monoplane reconnaissance aircraft with a good rough field capability. The design team, under Endo Ryokichi, achieved the required low-speed maneuverability by combining a light airframe with large wings. The wings were swept well back to give the pilot good visibility, while windows under the wing center sections gave the observer a good field of view. Its control surfaces were unusually large, which made it very light on the controls. The prototype first flew on 20 April 1938 and the design went into production in November 1938.

Its characteristics made the aircraft highly vulnerable, and it could only be effectively utilized in controlled airspace, which meant that it saw most of its action in China. A small number were given to Thailand.

Its characteristics were suitable for a trainer and the Ki-55 was a modified version produced for this purpose.
References
---