| | |
| --- | --- |
| The Pacific War Online Encyclopedia | |
---
---
graduate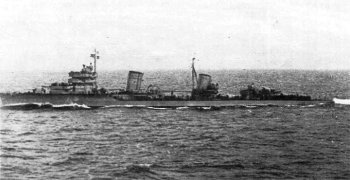 Wikipedia Commons. Fair use may apply.

Displacement

2225 tons standard displacement


Dimensions

418'3" by 38'6" by 13'3"

Maximum speed

36 knots

Complement

250

Armament

5 130mm guns

2 76.2mm AA guns


2 45mm guns


2x4 21" torpedo tubes

84 mines

Machinery

2-shaft geared turbine (66,000 shp)
3 boilers

Bunkerage

600 tons

Range

2100 nautical miles (3900 km) at 20 knots

The Leningrads were authorized under the first Soviet Five Year Plan (1920) and designed as flotilla leaders. They had a distinctive raked look and massive bridge structures, but were poor sea boats. Like all Russian destroyers, they were equipped for minelaying. Two of these vessels were based in the Far East at the time of Pearl Harbor, but one braved the Northeast Passage to Murmansk to assist with convoy duty in the White Sea area. The other, Tbilisi, might have played a role in the Russian offensive against Japan late in the war, but Japan had already agreed to a cease-fire by the time Russian forces began to move into the Kuriles.
References
---