| | |
| --- | --- |
| The Pacific War Online Encyclopedia | |
---
---
graduate
Okawachi Denshichi (1886-1958)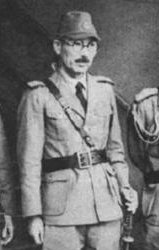 ww2incolor.com. Fair use may apply.
Cropped by author.
Okawachi commanded the SNLF forces in the second battle of Shanghai in 1937. He later commanded Southwest Area Fleet at Manila, in 1944. The fleet was disbanded in October 1944 but he remained in command of naval units in the area. He refused to cooperate with Army plans to evacuate Manila, and instead brought in 31 Special Naval Base Force under Iwabuchi Sanji to defend Manila to the last man.

Okawachi testified in behalf of Yamashita at the latter's war crimes trial, but to no avail.
Service record
1886-9-2
born
1909-11-19

Midshipman
Graduates from the Naval Academy, standing 41st in a class of 179. Assigned to CL

Soya

1910-7-16
CL

Niitaka



1910-12-15
Ensign
1912-8-9
Gunnery School Basic Course
1912-12-1
Lieutenant junior grade

1912-12-20
Torpedo School Basic Course
1913-5-24
CL

Asama



1914-8-13
BC

Ikoma



1915-5-26
BB

Hizen



1915-12-13
Lieutenant
CL

Tone



1916-12-1
Naval College B-Course
1917-5-1
Gunnery School Advanced Course
1917-12-1
BB

Shikishima



1918-1-25
DD

Keyaki



1918-11-9
CL

Adzuma



1919-8-1
Instructor, Naval Academy

1920-12-1
Naval College A-Course
1921-12-1
Lieutenant commander

1922-12-1
CL

Kuma



1923-11-10
Staff, Destroyer Squadron 2

1924-12-1
Instructor, Gunnery School
1926-12-1
Commander
Staff, Combined Fleet

1927-12-1
Instructor, Naval College

1930-12-1
Captain
1 Naval District

1931-4-1
Commander, AO

Ondo

1931-11-14
Commander, CL

Kiso

1932-12-1
Chief Instructor, Gunnery School

1934-8-20
Commander, CL

Asama



1935-8-1
Commander, BB

Hiei



1936-4-1
1 Naval District
1936-11-16
Commander, Shanghai SNLF
1936-12-1
Rear admiral

1938-4-25
Schoolmaster, Gunnery School

1940-9-6
Staff, China Area Fleet

1940-10-1
Chief of staff, China Area Fleet
1940-11-15
Vice admiral

1942-3-16
Navy General Staff

1942-7-14
Commander, 1 Southern Expeditionary Fleet

1943-9-20
Navy General Staff

1943-12-1
Commander, 4 Naval District

1944-4-20
Director, Naval Radar Command

1944-8-5
Director, Naval Academy

1944-10-22
Staff, Combined Fleet

1944-11-1
Commander, Southwest Area Fleet
1947-1-25


Retires

1958-2-13
Dies
References
Materials of IJN (accessed 2008-6-19)
---