| | |
| --- | --- |
| The Pacific War Online Encyclopedia | |
---
---
graduate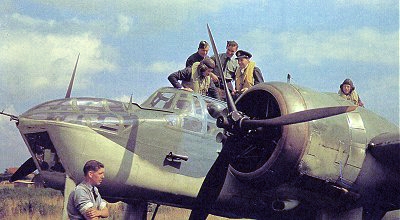 Bristol Blenheim I
Crew
3
Dimensions
56'4" by 39'9" by 9'10"
17.17m by 12.12m by 3.00m

Weight
8840-12,500 lbs
4010-5670 kg

Maximum speed
278 mph at 15,000 feet
447 km/h at 4600 meters

Climb rate
26 feet per second
7.9 m/s

Service ceiling
25,500 feet
7780 meters

Power plant
2 840 hp (626 kW) Bristol Mercury VIII nine-cylinder radials driving three-bladed propellers
Armament
One 0.303 machine gun in port engine
One 0.303 machine gun in dorsal turret
Bomb load
1000 lbs
450 kg

Range
1050 miles
1690 km

Production
1427 Mark I, 3983 Mark IV, and 945 Mark V by Bristol, Avro, and Rootes Securities by June 1943
Variants

There were numerous variants, but the I was the principal variant in the Far East when war broke out, and the VD was the principal variant supplied thereafter.

The VD used two 950 hp (708 kW) Mercury 30s and had a range of 1450 miles. Its armament consisted of two 0.303 machine guns in a rearward-firing chin turret and two 0.303 machine guns in a dorsal turret.
The Blenheim entered service in 1936 as the first British "fast bomber", meant to outrun fighter defenses in the days before radar. The concept may have been viable in the late 30's, but the Blenheim was hopelessly obsolete by the time war broke out in the Pacific in 1941, being heavy and underpowered compared with more modern bombers. Nonetheless, there were about 65 Blenheims in Malaya and another 18 at Trincomalee when war broke out. Several hundred more served in the Far East until they were withdrawn in late 1943. The Canadians had a variant of the Blenheim that they called the Bolingbroke, used for training and patrol duty on the Pacific coast.
References
---