| | |
| --- | --- |
| The Pacific War Online Encyclopedia | |
---
---
graduate
Cates, Clifton Bledsoe (1893-1970)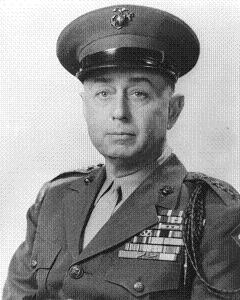 Cates earned his law degree from the University of Tennessee in 1916. He received a direct commission as a second lieutenant in the Marine Corps in June 1917 and went to France with 6 Marine Regiment. He fought with distinction at Belleau Wood, at Saint-Mihiel, and in the Meuse-Argonne offensive, being gassed and wounded. Something of a daredevil, he burst into laughter when his pants were blasted off by a shell at Aisne-Marne. He subsequently served as aide to Woodrow Wilson and was twice stationed at Shanghai. He was a graduate of the Army Industrial College, the Marine Corps School, and the Army War College.
The outbreak of war found Cates a colonel serving as director of the Marine Officers Basic School. Given command of 1 Marine Regiment, 1 Marine Division in May 1925, he led his unit into combat in the Guadalcanal campaign, and in 1943 he was promoted to brigadier general and command of the Marine Corps School. In mid-1944 he was promoted to major general and command of 4 Marine Division, which fought at Saipan, Tinian, and Iwo Jima.
Cates served as commander of Quantico in 1946 and as Commandant of the Corps, the highest Marine commander, in 1952-1954. Few Marine officers had as much experience under fire. Cates had commanded a platoon, company, battalion, regiment, and division in combat. As Commandant of the Corps, Cates worked for passage of a law fixing the postwar Marine strength at three divisions and three air wings, and he helped pioneer the use of helicopters and the development of the doctrine of vertical envelopment.
Cates was "a leader of invincible aplomb" (Leckie 1962) but was realistic about the hazards of the landing at Iwo Jima:
You know, if I knew the name of the man on the extreme right of the right-hand squad of the right-hand company of the right-hand battalion, I'd recommend him for a medal before we go in.
Service record

1893-8-31



Born at Tiptonville, Tennessee

1916



Bachelor of Laws, University of Tennessee

1917-6-13

Second lieutenant

6 Marine Regiment, France

1919-9

First lieutenant

Aide-de-camp, Commandant of the Corps

1920-10



Aide-de-camp, Commander, Department of the Pacific

1923-6



Commander, Marine Detachment,

California



1925-5



4 Marine Regiment, San Diego

1928-3

Captain

American Battle Monuments Commission, Washington

1929-5



4 Marine Regiment, Shanghai

1932



Army Industrial College

1933-6

Major

7 Marines; Senior Course, Marine Corps Schools

1935-9



War Plans Section

1937-8

Lieutenant colonel

6 Marine Regiment, Shanghai
1938-3



4 Marine Regiment, Shanghai
1939



Army War College

1940-7



Director, Marine Officers Basic School, Philadelphia

1941

Colonel



1942-5



Commander, 1 Marine Regiment

1943-3

Brigadier general

Commandant, Marine Corps School, Quantico

1944-7-12

Major general

Commander, 4 Marine Division

1945-12



President, Marine Corps Equipment Board

1946-5



Commander, Marine Barracks, Quantico

1948-1-1

General (temporary)

Commandant of the Corps

1952

Lieutenant general

Commandant, Marine Corps School, Quantico
1954-6-30

General

Retires

1970-6-4



Dies at Navy Hospital, Annapolis

References
Arlington National Cemetary Website (accessed 2008-1-28)
U.S. Marine Corps Historical Division (accessed 2008-1-28)
---