| | |
| --- | --- |
| The Pacific War Online Encyclopedia | |
---
---
graduate
Deyo, Morton Lyndholm (1887-1973)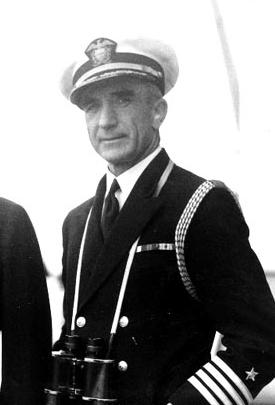 Naval Historical Center #NH 56952. Cropped by author.

"Mort" Deyo had helped evaluate proposals for aid to China as aide to the Secretaty of the Navy in 1940. He commanded Destroyer Squadron 11 in the Neutrality Patrol in the Atlantic in 1941, a cruiser in the Aleutians, in late 1942, and a bombardment group (Task Force 129) at Normandy in June 1944.

As long, however, as their fire is directed at our ships and away from the troops, we have no complaint. That is what we are there for.
(Deyo 1956) Deyo was named to command Task Force 54, the bombardment group for the Okinawa invasion, after Oldendorf was injured in a launch that collided with a buoy. Deyo's flagship, Tennessee, was hit by a kamikaze during the campaign.

Samuel Eliot Morison (1959) was aboard Tennessee during the preinvasion bombardment at Okinawa, and later claimed that he witnessed Deyo sniff the cordite fumes from the battleship guns and remark "That has a good, offensive smell!" Prior to the Normany invasion, Deyo let off steam by working out with a punching bag in his cabin (Atkinson 2013).

Service record

1887-7-1



Born at Poughkeepsie, New York

1911

Ensign

Graduates from Naval Academy. Assigned to BB V irginia

1912



DD Duncan

1914



BB Washington

1916



DD Jenkins

1917



DD Allen, Queenstown Station

1919-7-21

Lieutenant commander

Commander, DD Morris

1920



Staff, 1 Naval District

1921



Flag lieutenant, U.S. Fleet
1926



Instructor, Naval Academy

1929



Commander, DD Sloat

1930-6



Commander, DD

Upshur



1932



Naval War College

1934-12

Commander

Executive officer, CL Milwaukee

1936



Staff, Asiatic Fleet

1940-11-1

Captain
Aide, Secretary of the Navy

1941-4



Commander, Destroyer Squadron 11

1942-2



Commander, AP

Monticello



1942-7



Commander, CA

Indianapolis



1942-12-14

Rear admiral

Commander, Destroyers, Atlantic Fleet

1944-1-1



Commander, Cruiser Division 13, Atlantic and west Pacific

1946-4



Commander, 1 Naval District, Boston

1949

Vice admiral

Retires

1973



Dies

References
Deyo (1956-2-29; accessed 2012-6-29)
Morison (1959)
Naval Historical Center (accessed 2008-1-15)
Pettibone (2006)
Romanus and Sunderland (1952; accessed 2012-6-29)
Tuohy (2007)


---