| | |
| --- | --- |
| The Pacific War Online Encyclopedia | |
---
---
graduate
Higashikuni Naruhiko (1887-1990)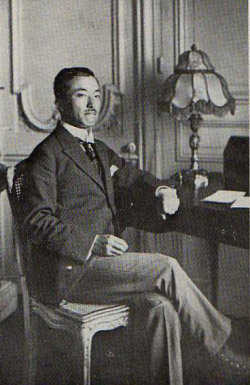 National Diet Library. Via Wikipedia Commons

Prince Higashikuni was the Emperor's uncle and had served with the Army in China. He had spent much of his youth in France and was, by Japanese standards, liberal or even libertarian in his political views. He was briefly considered for Prime Minister when the Konoye cabinet fell in October 1941, on the eve of war, but was rejected in favor of Tojo because of his limited talents, his relative lack of political experience and because his leadership would reflect particularly badly on the Emperor if the war went badly. Higashikuni was opposed to the war and, with the encouragement of Konoye, had met with Tojo in early September 1941 to try to persuade him to avoid any confrontation with the Americans. However, by then the Emperor had already given his sanction to the decision to go to war if there was not a diplomatic breakthrough by mid-October, and Tojo regarded the deadline as completely settled. Higashikuni later tried to talk the Emperor into making peace, just a few weeks after the attack on Pearl Harbor.

Higashikuni was part of the Supreme War Council when war broke out, and took command of General Defense Command shortly thereafter. He retained both positions throughout the war. In April 1944 he and his nephew, Kaya Tsunenori, were approached by Konoye for their assistance in ousting Tojo from power, an effort that finally succeeded following the Saipan disaster. Higashikuni and agreed to become Prime Minister on 16 August 1945 to ensure (through his prestige as a member of the Imperial Family) that the Army would carry out the surrender terms.
Higashikuni became a commoner after the surrender and attempted to form a new religious order (Higashikuni-Kyo) in 1950 which was banned by the occupation authorities.
Service record
| | | |
| --- | --- | --- |
| 1887-12 | | Born in Kyoto |
| 1908 | Second lieutenant | |
| 1928 | Colonel | 1 Division |
| 1928 | | Commander, 3 Imperial Guards Regiment |
| 1929 | Major general | General Staff |
| 1930 | | Commander, 5 Brigade |
| 1932 | | General Staff |
| 1933 | Lieutenant general | Commander, 2 Division |
| 1934 | | Commander, 5 Division |
| 1937 | | Head, Army Aeronautical Department, Ministry of War |
| 1938 | | Commander, 2 Army, China |
| 1939-8 | General | |
| 1941 | | Commander, General Defense Command |
| 1945 | | Supreme War Council |
| 1945 | | Minister of War |
| 1945-8-16 | | Prime Minister |
| 1990 | | Dies |
References
Generals.dk (accessed 2008-6-21)
---