| | |
| --- | --- |
| The Pacific War Online Encyclopedia | |
---
---
graduate
Li Hsien-chou (1894-1988)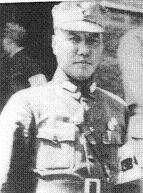 Fair use may apply

Li Hsien-chou (Li Xianzhou) was deputy commander of 15 Army Group and head of the Shantung Cadre Training Center of the Central Military Academy when war broke out in the Pacific. He commanded 28 Army Group from 1943 onwards.
Dorn (1974) relates a claim by a Chinese colonel, Yao Ts'an-mou, that Li was guilty of cowardice while commanding 21 Division near Nankow, northwest of Peiping, in 1937:
That son of a bitch in Kalgan [Li] beat us. We had the Japs on ice, and suddenly without any warning he ran away and left the back door open. How could we stay in Nankow after that? It was terrible. I could not take any food for a week, and everybody was weeping very bitter tears. The general [T'ang En-po] tried to kill himself, and we had to restrain him.
In February 1947, during the Chinese Civil War, Li inflicted a brief setback on the Chinese Communists along the Tsingtao-Tsinan corridor, but was wounded and captured. He was released in a general amnesty in 1960, and thereafter held a number of nominal posts in the Communist government.

Service record

| | | |
| --- | --- | --- |
| 1894-6-17 | | Born |
| 1927-5 | Lieutenant colonel | Commander, Replacement Regiment, 2 Division, 1 Army |
| 1927-9 | Colonel | Commander, Training Regiment, 1 Army |
| 1928-7 | | Deputy commander, 1 Brigade, 1 Army |
| 1928-11 | | Commander, 13 Regiment, 7 Brigade, 3 Division, 1 Army |
| 1932-5 | Major general | Commander, 9 Brigade, 3 Division, 1 Army |
| 1933-7-21 | | Deputy commander, 1 Division, 1 Army |
| 1934-12-15 | Lieutenant general | Commander, 21 Division |
| 1938-2-12 | | Commander, 92 Army |
| 1941-5-6 | | Deputy commander, 15 Army Group |
| 1943-2-24 | | Commander, 28 Army Group |
| 1945-2 | | 2 General's Class A, War College |
| 1945-6 | | Commander, 28 Army Group |
| 1946-3 | | Deputy commander, 2 Pacification Area |
| 1947-2-23 | | Wounded |
| 1947-2-23 | | Captured by the Chinese Communists |
| 1960-11-28 | | Released |
| 1988-10-22 | | Dies |
References
Ammentorp (accessed 2016-2-23)
RepublicanChina.org (accessed 2010-12-23)

---