| | |
| --- | --- |
| The Pacific War Online Encyclopedia | |
---
---
graduate
Low, Francis Stuart (1894-1964)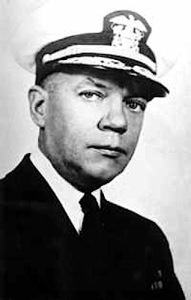 uss-hornet.org. Fair use may apply.

Francis Low was a submarine officer on of the staff of the Chief of Naval Operations when war broke out in the Pacific. It was Low who first suggested a strike against Japan by Army bombers launched from a carrier. This suggestion led to the Doolittle Raid.

Low commanded heavy cruiser Wichita at the Battle of Rennell Island before being recalled to Washington to serve as chief of staff of 10 Fleet, the Navy's antisubmarine command for the Atlantic. Although King was nominally commander of 10 Fleet, Low was responsible for day to day direction of the American contribution to what Churchill later identified as the crucial naval campaign of the Second World War. He was a strong supporter of operational research.

Low commanded Cruiser Division 16 in the Okinawa campaign.
Service record

| | | |
| --- | --- | --- |
| 1894 | | Born in Albany, New York |
| 1915 | Ensign | Graduates from Naval Academy |
| 1923 | | Staff, Submarine Division 13 |
| 1926 | | Naval War College |
| 1932 | | Staff, Submarine Squadron 5 |
| 1935 | | Commander, DD Paul Jones |
| 1937 | | Commander, Submarine Division 13 |
| 1940-12 | | Staff, Chief of Naval Operations |
| 1942-9 | Captain | Commander, CA Wichita |
| 1943-4-6 | Rear admiral | Chief of staff, 10 Fleet |
| 1945-1 | | Commander, Cruiser Division 16 |
| 1947 | | Commander, Service Forces, Pacific |
| 1950 | Vice admiral | Deputy Chief of Naval Operations for Logistics |
| 1953 | | Commander, Western Sea Frontier |
References

uss-hornet.org (accessed 2011-5-9)
---