| | |
| --- | --- |
| The Pacific War Online Encyclopedia | |
---
---
graduate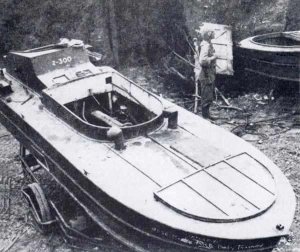 U.S. Navy. Via Wikimedia Commons
Type 1 Shinyo

Tonnage

1.35 tons


Dimensions

19.7' by 5.4' by 1'
6m by 1.64m by 0.30m


Maximum speed

18 knots with warhead

Complement

1


Armament

551-661 lb (250-300 kg) explosive charge
Propulsion

1 Toyota KC Special Type automobile engine
2 120mm SO-RA rockets

Production

6197 of all types
Type 5 Shinyo

Tonnage

2.2 tons


Dimensions

21' by 5.8' by 2.9'
6.4m by 1.77m by 0.88m


Maximum speed

30 knots


Complement

2


Armament

551-661 lb (250-300kg) explosive charge
1 13mm/76 machine gun

Propulsion

2 Toyota KC Special Type automobile engines
2 120mm SO-RA rockets
Production

Over 6000 were produced before the end of the war


The Shinyo ("Sea Quake") were small motor boats intended for suicide attack. They were built of plywood and powered by automobile engines and carried a large explosive charge in their noses. The pilot was expected steer the boat into an Allied ship, using the SO-RA rockets for last minute acceleration, with the charge exploding on impact. The slightly larger Type 5 variant was intended as a command boat and was likely produced in much smaller numbers.
The Japanese Army produced its own special attack boat, the Maru-ni, which was first encountered by the Allies in the Philippines and was not actually a suicide boat. This version carried a pair of 120kg (265 lb) depth charges, one on each side of the cockpit, which were to be released alongside an Allied ship, giving the boat a theoretical possibility of escaping before the charges went off six seconds later. A few crewmen actually survived carrying out such attacks, though not with their boats intact.
Out of over 6000 shinyo and 3000 maru-ni produced before the surrender, the great majority were retained in Japan for use against any Allied invasion. About 400 were committed to the Phillipines or Okinawa.

These boats sank perhaps seven Allied auxiliaries and damaged a number of others, including destroyer Hutchins, but thereafter the Allies took precautions against the boats and those at Okinawa were neutralized before they could achieve anything.

References
Branfill-Cook (2014)
CombinedFleet.com (accessed 2011-7-14)
Morison (1959)
Sears (2008)
Stern (2010)
---