| | |
| --- | --- |
| The Pacific War Online Encyclopedia | |
---
---
graduate
Sun Lien-chung (1894-1990)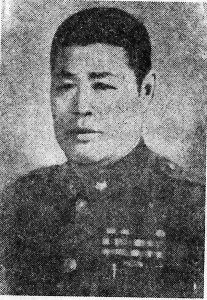 Sun Lien-chung (Sun Lianzhong) commanded the Kuomintang 2 Army Group, which participated in the Taierzhuang battle of March 1938 that handed Japan one of its few serious setbacks in China prior to the outbreak of war in the Pacific. Sun had set an ambush for the Japanese:

I depended largely upon the rashness and overconfidence of the Japanese leaders, who are contemptuous of our military strength.

Japanese casualties were perhaps as many as 20,000 killed or wounded. However, the Chinese also suffered heavily.
At the time war broke out in the Pacific, 2 Army Group was apparently operating in the Tongbai Mountains northwest of Wuhan.

Wilson describes Sun as "a six-foot northerner". He was educated, but Dorn, who is critical of Sun's generalship in the Salween campaign, claims he was an alcoholic and sometimes indecisive and timid. At other times he showed determination and resourcefulness, and many historians regard him as one of the most competent Kuomintang generals. Sun had much confidence in Ch'ih Feng-ch'eng and gave him great responsibility.

Service record

| | | |
| --- | --- | --- |
| 1894 | | Born |
| 1928 | | Military governor, Chinghai Province |
| 1929 | | Chairman, Kansu Province |
| 1937 | Lieutenant general | Commander, 1 Army |
| 1937 | | Deputy commander, 2 Army Group |
| 1937 | General | Commander, 2 Army Group |
| 1943 | | Commander, 6 War Area |
| 1945 | | Commander, 11 War Area |
| 1945 | | Chairman, Hopeh Province |
| 1945 | | Director, Paoting Pacification Headquarters |
| 1955 | | House arrest |
| 1988 | | Released |
| 1990 | | Dies |
References
Generals.dk (accesssed 2008-5-9)

---