| | |
| --- | --- |
| The Pacific War Online Encyclopedia | |
---
---
graduate
Viti Levu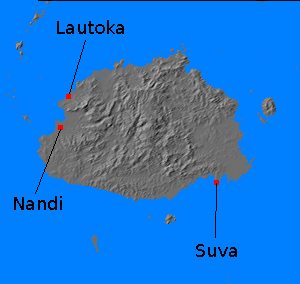 Viti Levu is the largest island of the Fiji group. it is located about 2740 miles southwest of Pearl Harbor, 1700 miles northeast of Sydney, 1100 miles north-northwest of Auckland, and 180 miles northwest of Tonga. the island is 91 miles (146 km) long and 66 miles (106 km) wide for an area of 4053 square miles (10,497 km2). It is mountainous, with peaks reaching to 4341' (1323 meters). The Rewa River, which arises in the northeast and empties into the sea near the chief port of Suva, is navigable up to 50 miles inland. It was connected to the ancient native capital at Bau by a canal 2 miles (3 km) long and 60' (20 meter) wide, a considerable feat of primitive engineering. Gold was discovered at Vatukoula (177.854E 17.509S) on northern Viti Levu in 1932, but the principal export remained sugar.
There were significant military facilities in place when war broke out in the Pacific. Most military installations were located either at Suva or near Nadi, on the opposite end of the island. The island was garrisoned by New Zealand's 8 Brigade, which was relieved by the U.S. 37 Division on 11 June 1942 to free the New Zealanders for operations in the Solomons. The King's Road on the north coast and Queen's Road on the south coast connected all the island's major settlements, and there was a narrow-gauge railroad in the Nandi Bay area. The interior of the island was largely wild and unsettled.

Nadi Bay, an excellent anchorage lacking any facilities in 1940, was developed by U.S. forces during the war. Nadi airfield with two 7000' (2130 meter) concrete runways, had been built by New Zealand forces before war broke out, as had Narawa with two 5000' (1520 meter) runways 15 miles (24 km) north of Suva on the Rewa River. All these facilities were closed in August 1944, when the war had moved on.

References
---