| | |
| --- | --- |
| The Pacific War Online Encyclopedia | |
---
---
graduate
Griswold, Oscar Wolverton (1886-1959)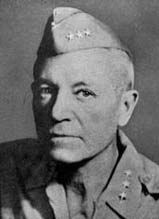 Oscar Griswold was born in Nevada and graduated from West Point in 1910. He saw action as a major in 84 Division on the western front in the First World War. He also saw occupation duty in Germany and served on the Army General Staff, gaining a reputation as an infantry expert who emphasized firepower and flexibility.

Griswold was given command of XIV Corps during the latter stages of the New Georgia campaign, when it was clear Hester's divisional staff were overloaded trying to manage the entire landing force. He became a proponent for the deployment of flamethrower tanks in the Pacific, though these were not ready before the New Georgia campaign was concluded.

Griswold also oversaw the Battle of the Perimeter at Bougainville and his corps saw action on Luzon during the second Philippines Campaign. During the battle of Manila, he found himself increasingly in disagreement with his superiors, Krueger and MacArthur, over the conduct of the battle (Hastings 2007):
C-in-C refused my request to use air on Intramuros. I hated to ask for it since I knew it would cause death of civilians held captive by Japs. We know, too, that the Japs are burning large numbers to death, shooting and bayoneting them. Horrid as it seems, probably death from bombing would be more merciful ... I fear that the C in C's refusal to let me have bombing will result in more casualties to my men ... I understand how he feels about bombing people — but it is being done all over the world — Poland, China, England, Germany, Italy — then why not here! War is never pretty. I am frank to say I would sacrifice Philipino [sic] lives under such circumstances to save the lives of my men. I feel quite bitter about this tonight.

Griswold was a calm, taciturn officer who lived simply and who enjoyed unusually good relations with the Navy. He was well-liked, tending to praise subordinates in public and rebuke them behind closed doors. He was quick to defend his friends and valued National Guardsmen, such as Beightler, which led to clashes with Krueger. However, he suffered from poor health, for which he was occasionally hospitalized. Griswold was considered for command of 10 Army after the death of Buckner, but was passed over for Stilwell.
Service record

| | | |
| --- | --- | --- |
| 1886-10-22 | | Born in Ruby Valley, Nevada |
| 1910 | Second lieutenant | Graduates from Military Academy and commissioned in the infantry |
| 1917 | Major | 84 Division, France |
| 1921 | | Instructor, Military Academy |
| 1924 | | Command and General Staff School |
| 1928 | | Army War College |
| 1929 | | Staff, War Department |
| 1936 | | Office, Chief of Infantry |
| 1939 | Colonel | Commander, 29 Regiment |
| 1941 | | Commandant, Infantry Replacement Training Center, Camp Croft |
| 1941 | Major general | Commander, 4 Mechanized Division |
| 1941 | | Commander, IV Corps |
| 1943 | | Commander, XIV Corps |
| 1945 | Lieutenant general | Commander, 4 Division |
| 1947-3-15 | | Commander, 3 Army |
| 1947-10 | | Retires |
| 1959-10-5 | | Dies at Colorado Springs, Colorado |
References
Generals.dk (accessed 2008-3-1)
U.S. Army Central website (accessed 2008-3-1)
---