| | |
| --- | --- |
| The Pacific War Online Encyclopedia | |
---
---
graduate
O'Donnell, Emmett (1906-1972)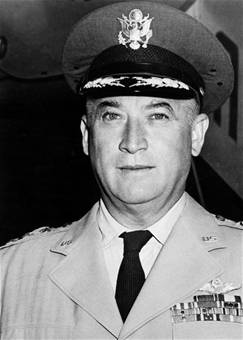 "Rosie" O'Donnell was commissioned in the infantry following graduation from West Point, where he had been a substitute halfback on the football team. He switched to the Air Corps almost at once and participated in the air mail service of the mid-1930s. He later led the first bombardment squadron to the Philippines during the 1941 buildup, and after war broke out, he led an attack against the Japanese force off Vigan in which his bomb release failed during five passes over the target.
Evacuated to Java and then India, he was assigned to 10 Air Force until 1943, when he was recalled to Washington to serve as an advisor to "Hap" Arnold. He then trained one of the first B-29 wings, 73 Bombardment Wing, and personally led it on its first raid on Tokyo on 24 November 1944. He continued leading the wing until the Japanese surrender.
St. Clair McKelway, a journalist turned Air Force officer, described O'Donnell as possessing "vividly articulate Irish-American Brooklyn-born lightheartedness, humor, and spiritual gaiety, except for an inner toughness and thoughtfulness which the pale face subtly intimates" (quoted by Larrabee 1987).

Postwar O'Donnell led the Far East Bomber Command during the Korean War.

Service record

| | | |
| --- | --- | --- |
| 1906 | | Born at Brooklyn |
| 1924 | | Graduates from Manual Training High School |
| 1928 | Second lieutenant | Graduates from West Point |
| 1930-3 | | Completes pilot training. Assigned to 1 Pursuit Group. |
| 1934 | | Assistant football coach, West Point |
| 1935-4-20 | Captain | 94 Pursuit Squadron |
| 1936-12 | | 18 Reconnaissance Group |
| 1939-8 | | Air Corps Tactical School |
| 1940-2 | | 11 Bombardment Group |
| 1941-1 | Major | Commander, 14 Bombardment Squadron |
| 1941-12-12 | | Commander, 19 Bombardment Group |
| 1942-1 | Lieutenant colonel | Staff, Far East Air Force |
| 1942-2-12 | | Staff, 10 Air Force |
| 1942-3 | Colonel | |
| 1943 | | Chief, Air Force Advisory Council |
| 1944-3-15 | Brigadier general | Commander, 73 Bombardment Wing |
| 1945 | | Deputy chief, Engineering Division, Air Technical Service Command |
| 1946-8 | | Director of information |
| 1947-2 | Major general | |
| 1947-9 | | Deputy director of public relations |
| 1948-1 | | Permanent Joint Board on Defense |
| 1948-10 | | Commander, 15 Air Force |
| 1953 | Lieutenant general | Deputy chief of personnel |
| 1959-8 | General | Commander, Pacific Air Forces |
| 1963-7-31 | | Retires |
| 1972-1-1 | | |
References
Generals.dk (accessed 2011-7-19)
U.S. Air Force (accessed 2011-7-19)
---