| | |
| --- | --- |
| The Pacific War Online Encyclopedia | |
---
---
graduate
Swift, Innis Palmer (1882-1953)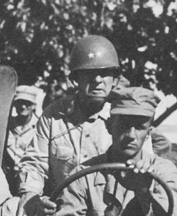 U.S. Army. Via ibiblio.org

Swift was born in a military family, attended West Point and served as aide-de-campe to Pershing in the Philippines.

Swift commanded 1 Cavalry Division throughout the New Guinea campaign. MacArthur was sufficiently impressed with Swift's leadership in the invasion of the Admiralties to have him promoted to command of I Corps in time for the Luzon campaign, where his corps took the left side of the landings at Lingayen Gulf. He thus became the oldest corps commander in the U.S. Army to see combat in the Second World War.
Swift was a soldier's soldier who stood near the bottom of both his West Point and Command and General Staff School classes. He was a "tough hombre" (quoted in Taaffe 2011) but was extremely loyal to Krueger for giving him the chance at combat command in spite of his relatively old age. However, Swift also got along well with Eichelberger, who appreciated both Swift's toughness and his storytelling ability.

Service record

| | | |
| --- | --- | --- |
| 1882-2-7 | | Born at Fort Laramie, Wyoming |
| 1904 | Second lieutenant | Graduates from Military Academy, standing 115th in a class of 124 |
| 1918 | | Assistant chief of staff, 86 Division |
| 1922 | | Command and General Staff School |
| 1923 | | Instructor, Command and General Staff School |
| 1929 | | Army War College |
| 1930 | | Army Industrial College |
| 1936 | Colonel | Commander, 8 Cavalry Regiment |
| 1939 | Brigadier general | Commander, 2 Cavalry Brigade |
| 1941-2 | Major general | Commander, 1 Cavalry Division |
| 1944-6-10 | Lieutenant general | Commander, I Corps, Luzon |
| 1946 | | Retires |
| 1953-11-3 | | Dies at San Antonio, Texas |
References
FindAGrave.com (accessed 2012-8-4)
Generals.dk (accessed 2011-8-4)

U.S. Army World War II Corps Commanders (accessed 2008-5-16)
---