| | |
| --- | --- |
| The Pacific War Online Encyclopedia | |
---
---
graduate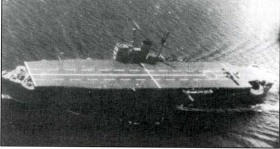 navalhistory.flixco.info. Fair use may apply.

Tonnage
11,800 tons standard displacement

Dimensions
471'7" by 64'0" by 37'9"
143.74m by 19.50m by 11.51m

Maximum speed
20 knots
Aircraft
403'6" (122.99m) flight deck
1 elevator
20 aircraft or 20 Daihatsu landing craft
Armament
2 75mm antiaircraft guns
10 75mm field guns

Machinery

2-shaft turbine (7500 shp)
4 boilers

The Akitsu Marus were built by the Japanese Army as "landing ships with flight decks." They could carry a combination of landing craft and small aircraft, the latter intended to be flown off to airstrips ashore. They had no practical capability to land aircraft, for which Army pilots were not trained in any case. Plans were considered to modify the flight decks to support landing, which might have resulted in a ship whose role anticipated that of the postwar U.S. amphibious assault ships. However, these plans were never implemented.
A small number of Ka-1 autogyros were modified by eliminating the second seat and installing racks for two 60 kg (132 lb) depth charges. These were intended to operate off the Akitsu Marus, prefiguring the postwar concept of helicopter-equipped antisubmarine escort vessels. It is unclear whether they ever actually operated in this fashion.
References
Jentschura, Jung, and Mickel (1977)
Naval History via Flix (accessed 2009-3-13)

---