| | |
| --- | --- |
| The Pacific War Online Encyclopedia | |
---
---
graduate
Hupeh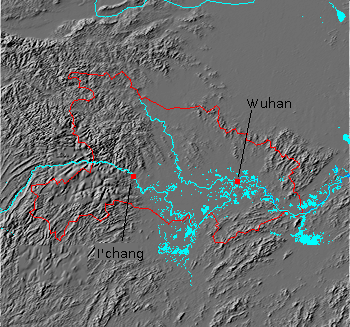 Hupeh (Hubei) is a province of central China straddling the Yangtze and Han Rivers. The western third of the provice is mountainous, while most of the rest of the province consists of the Chianghan Plain with its thousands of lakes. The provincial capital of Wuhan, often known outside China as Hankow, was one of the most populous cities of China and a major manufacturing center. Other major cities included I'chang at the entrance to the Yangtze Gorges. The climate is humid subtropical, and the province was a major agricultural region, supplying China with 20% of its rice and 60% of its wheatin peacetime.

The Japanese seized much of the province during the Yangtze Valley campaign of 1938. The province remained a battleground throughout the Pacific War, though the Japanese hold on Wuhan was never seriously threatened.
During the winter of 1942-1943, 11 Army at Wuhan expanded its perimeter near Tungting Lake, clearing the area of Chinese Communist guerrillas. However, the Japanese found their logistics badly stretched, in part because of shipping losses in the Pacific, and launched a large raid on 16 April 1943 by three divisions to capture Chinese river shipping on the upper Yangtze. By 4 May the Japanese had completed the raid and drawn back into their perimeter. However, the perceived threat to Chungking caused Chiang to withdraw resources from the expeditionary force assembling in Yunnan for operations in northern Burma. Thus the Japanese raid unintentionally also served as a spoiling attack. The Chinese claimed a great victory, since the Japanese "offensive" against Chungking was "turned back", but American observers on the scene were not deceived.

Japanese order of battle, 13 June 1943

Allied order of battle, 13 June 1943

Chinese Nationalist Army (Chiang)

17 to 20 divisions, about 102,000 men



Elements, 6 War Area (Chen)




Elements, 9 War Area (Hsueh)



14 Air Force (Chennault)



References
Collingham (2011)
Romanus and Sunderland (1953)
---