| | |
| --- | --- |
| The Pacific War Online Encyclopedia | |
---
---
graduate
Shepherd, Lemuel Cornick Jr. (1896-1990)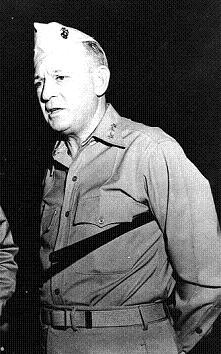 National Archives #80-G-422491. Cropped by author.

Lemuel Shepherd was born in Virginia and graduated from the Virginia Military Institute in 1917, accepting a commission into the Marine Corps. During the First World War, he participated in the battles of Belleau Woods, Aisne-Marne, Saint-Mihiel, and Meuse-Argonne, where he was wounded three times and received three American decorations. He subsequently served as an aide to legendary Marine Corps commandant John Lejeune, on battleships, and with 4 Marine Regiment in China. He rose steadily through the ranks and graduated from the Navy War College in 1937. By the time war broke out in the Pacific, he was regarded as one of the foremost tacticians of the Corps, and during the war he earned a reputation for leading from the front.

Sheperd was in a training assignment when war broke out. In March 1942 he became commander of 9 Marine Regiment and in January 1943 he became assistant commander of 1 Marine Division on Guadalcanal. He was promoted to brigadier general in July. He participated in the Cape Gloucester landings and commanded 1 Provisional Marine Brigade from April 1944, leading that unit at Guam. Promoted to major general in September, he took command of 6 Marine Division and led it at Okinawa.
Postwar Sheperd served as assistant commandant of the Corps before becoming commander of Fleet Marine Force and observing the Inchon landings during the Korean War. He subsequently became commandant of the Corps and retired in January 1956. He resumed active duty briefly in 1956-1957 to chair an advisory board before retiring permanently.
Service record
1896-2-10

born
1917-4-11

Second lieutenant

Graduates from Virginia Military Institute. Assigned to Marine Barracks, Port Royal, South Carolina

1917-5



5 Marine Regiment, France

1918



Army of Occupation, Germany

1919-7

Captain



1919-9



Mapping expedition, France

1920-12



Aide-de-campe, Commandant of the Corps

1922-7



Brazilian Exposition, Rio de Janeiro

1923-6



BB

Idaho



1925



Commander, Marine Sea School

1927-4



3 Marine Brigade, Tientsin and Shanghai

1929



Field Officers' Course

1930



Garde d'Haiti

1934

Major

Executive officer, Marine Barracks, Washington, D.C.

1936

Lieutenant colonel

Naval War College

1937-5



Commander, 2 Battalion, 5 Marine Regiment

1939-6



Staff, Marine Corps Schools

1942-3

Colonel

Commander, 9 Marine Regiment, 3 Marine Division

1943-7

Brigadier general
Assistant commander, 1 Marine Division
1944-3-22



Commander, 1 Provisional Marine Brigade
1944-9

Major general

Commander, 6 Marine Division, Okinawa

1946-3



Commander, Troop Training Command, Amphibious Forces, Atlantic Fleet

1946-11-1



Chief of staff, Marine Corps

1948-4



Commandant, Marine Corps Schools

1950-6

Lieutenant general

Commander, Fleet Marine Force
1952-1-1



Commandant of the Marine Corps

1956-1-1



Retires

1956-3



Recalled to active duty. Chairman, Inter-American Defense Board

1959-10-1



Retires

1990-8-6



Dies at La Jolla, California

References
Arlington Nationa; Cemetary Website (accessed 2008-6-30)
Naval Historical Center (accessed 2008-6-30)
---