| | |
| --- | --- |
| The Pacific War Online Encyclopedia | |
---
---
graduate
Sherman, Forrest Percival (1896-1951)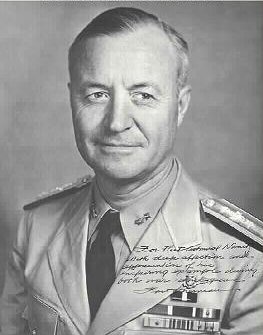 Naval History and Heritage Command #NH 58253

Forrest Sherman was born in New Hampshire and studied at MIT before being accepted to the Naval Academy (class of 1914). He graduated second in his class. After serving in Europe during the First World War, he took flight training in 1922, graduated from the Naval War College in 1927, and served in aviation-related staff and sea postings. While serving in the War Plans Division, he attended the Atlantic Conference.

Sherman was still serving with the War Plans Division when war broke out. In February 1942 he took command of Wasp, where he served as Noyes' de facto chief of staff. However, he pleaded in vain for Noyes to authorize air strikes against the retreating Japanese following the disaster at Savo Island: Noyes did not even pass his request along to Fletcher. When Wasp was torpedoed in the Solomons, Sherman was exonerated by the Board of Inquiry and became chief of staff to Admiral Towers, Nimitz' air deputy, where he proved highly effective. He was promoted to rear admiral in April 1943 and subsequently served as Nimitz' plans officer. He helped plan the operations at Truk, the Marianas, Iwo Jima, and Okinawa.

Sherman was the Navy representative at the debriefings of Japanese staff officers at Manila on 20 August 1945 that laid the groundwork for the formal surrender. He was notably kind to these Japanese officers as they carried out the unpleasant task of identifying Japanese military installations in the home islands for their former enemies. Sherman was also present at the surrender ceremony in Tokyo Bay.
Postwar Sherman helped draft the National Security Act of 1947, commanded the Mediterranean Fleet, and became Chief of Naval Operations with rank of full admiral. He died suddenly while attending a conference on European security in Italy.

Sherman was considered one of the most brilliant aviator admirals in the Navy and was equally accomplished at navigating bureaucracies. As as result, he became one of Nimitz' most trusted advisors in the final years of the war, and did not receive a sea command until the war was practically over.

Service record
1896-10-30



Born at Merrimack, New Hampshire

1917-6



Graduates from Naval Academy, standing second in a class of 199. Assigned to PG

Nashville.



1918



DD

Murray



1919



BB

Utah



1920



DD

Reid



1921

Lieutenant

Commander, DD

Barry



1922



Flight training

1922-12



VF-2

1924



Flight instructor, Pensacola

1926



Naval War College

1927



CV

Lexington



1929



CV

Saratoga



1930

Lieutenant commander

Instructor, Naval Academy

1931



CV

Saratoga

1933



Chief of Aviation Ordnance, Bureau of Ordnance

1936



CV

Ranger



1937

Commander

Aviation officer, U.S. Fleet

1940



War Plans Division

1942-5-31

Captain

Commander, CV

Wasp

1942-9-15



Chief of staff, Naval Air Force, Pacific Fleet

1943-4

Rear admiral



1943-11



Deputy chief of staff, Pacific Fleet

1944-6



War plans officer, Pacific Fleet

1945-8



Commander, Carrier Division 1

1945-12

Vice admiral

Deputy Chief of Naval Operations

1948-1



Commander, Naval Forces in the Mediterranean

1948-6



Commander, 6 Fleet

1949-11-2

Admiral

Chief of Naval Operations

1951-7-22



Dies in the line of duty

References
Arlington National Cemetery Website (accessed 2008-3-12)
Naval Historical Center (accessed 2008-3-10)
Pettibone (2006)
Tuohy (2007)
---