| | |
| --- | --- |
| The Pacific War Online Encyclopedia | |
---
---
graduate
Conolly, Richard Lansing (1892-1962)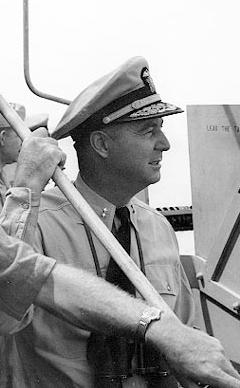 "Close-In" Conolly ("Dick" to his friends) received his nickname from his insistence that fire-support ships should maneuver extremely close to the beach during amphibious assaults. Ship commanders feared running aground, but Conolly understood that strong beach fortifications could be neutralized only by direct hits, and direct hits could be reliably achieved only from the shortest possible range.
Conolly was a 1914 Naval Academy graduate with a background in destroyers. He had received the Navy Cross for the salvage of Westbridge after she was torpedoed by a U-boat in August 1918: "... when he, with a party of eight others remained on board for five days steering by hand and handling the lines from the tugs, while the ship was towed four hundred miles to port."
As a destroyer flotilla commander, Conolly participated in the Doolittle Raid. Later, as a Washington staff officer, he was one of the few who believed TORCH (the landings in North Africa) would succeed. He directed amphibious invasions in the Mediterranean before taking command of the Northern Force responsible for the invasion of Makin during the Gilberts campaign. He initially clashed with Turner, who felt there was only room for one amphibious expert in the Pacific, but the two men developed a grudging respect for each other. Conolly continued to command amphibious forces within 5 Fleet for the remainder of the war. Spruance particularly commended him for his resourcefulness during the Roi-Namur invasion.

Conolly was in Washington when Turner was up for a third star. Some senators were balking on the promotion because of the Savo Island disaster, but Conolly put in a good word for Turner that may have helped put the promotion through.
Conolly was "[r]obust and genial, thorough and methodical" (Morison 1953) and a careful planner as well as a tough fighter. A charming, personable officer, he worked well with Marine officers such as Geiger. His chief of staff, Charles Wellborn, later said of him:

I've served with a lot of fine officers but he seemed to have the best perception of all as to what the role of a commander was, what the role of his chief of staff was, and what the role of each one of his staff officers was. He seemed to know better than most how to fire up a team, to have them at the peak on the day of the operation. He didn't have the brightest mind of all the people I worked with — but he had an understanding of leadership that I thought was outstanding... He was outgoing and a scrapper. As a wartime leader he had the right natural equipment and knew how to use it.

(Tuohy 2007)
Service record

1892-4-26



Born at Waukegan, Illinois

1914

Ensign

Graduates from Naval Academy. Assigned to BB

Virginia



1915-5



BB

Montana

for torpedo instruction

1915-11



BB

Virginia

1916-3



BB

Vermont

1916-5



DD

Smith



1918-11



Navy Postgraduate School, Annapolis, and Columbia University, New York (Master of Science)

1922-11



BB

Mississippi



1924-3



BB

New York



1925-9



Instructor, Naval Academy

1927-6



CL

Concord



1929-8



Commander,

Dupont



1930



Navy War College

1931-5



Instructor, Navy War College

1933-5



Flag secretary, Cruisers, Scouting Force

1935-4




Tennessee



1936-6



Instructor, Naval Academy

1939-5



Commander, Destroyer Division 7

1941-10

Captain

Commander, Destroyer Squadron 6

1942-6



Staff, Navy Department

1943-6

Rear admiral

Commander, Landing Craft and Base, Northwest African Waters

1943-10



Commander, Amphibian Group 4

1944-6



Commander, Amphibian Group 3

1946-9-23

Admiral

Commander, U.S. Naval Forces Europe

1962-3-1



Killed in an air crash along with his wife

References
Arlington Cemetery Website (accessed 2008-2-10)
Naval Historical Center (accessed 2008-2-10)
Pettibone (2006)

---