| | |
| --- | --- |
| The Pacific War Online Encyclopedia | |
---
---
graduate
Hanaya Tadashi (1894-1957)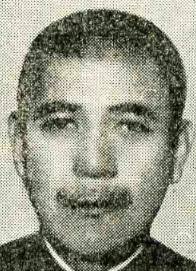 imperialarmy.hp.infoseek.co.jp.

Fair use may apply.

Hanaya was born in Okayama prefecture and graduated from the Military Academy in 1914. He graduated from the Army Staff College in 1922 and commanded a battalion before joining the staff of Kwantung Army. As head of the Special Services Agency at Mukden, he was deeply involved in the Mukden Incident that led to the Japanese occupation of Manchuria. He subsequently commanded a regiment, advised the puppet Manchurian government, and commanded a brigade.

When war broke out, Hanaya was chief of staff of 1 Army in northern China. He was promoted to lieutenant general and given command of 55 Division in in November 1943, when it was transferred to control of 28 Army in Burma. His division was ordered to invade the Akyab region of Burma on 11 January 1944 (Operation Ha-Go) to draw off reinforcements from Imphal, and succeeded in surrounding 7 Indian Division. However, the British reinforced by air and smashed Hanaya's division, and he joined the long retreat in Burma. His army counterattacked along the lower Sittang River in May-June 1945, allowing part of 28 Army to escape encirclement. In July 1945 he joined the staff of 18 Army in Bangkok. He participated in the debate among the staff of Southern Area Army whether to obey the Emperor's announcement of surrender, arguing that "... We have heard His Majesty's broadcast. After that, there is nothing to do but do as he says, and bring the war to an end" (Allen 1984).

Hanaya had a reputation for bullying senior officers under his command, even physically beating them: "... Hanaya ... used to slap his senior officers in the face in front of their men till the blood ran..." (Allen 1984). He also had a reputation for telling junior officers to commit suicide and offering them his own sword if they demurred. However, he also had a reputation of being solicitous towards enlisted men. He was politically ruthless but also displayed genuine military ability.
Service record

| | | |
| --- | --- | --- |
| 1894 | | Born in Okayama prefecture |
| 1914 | | Graduates from Military Academy |
| 1922 | | Graduates from Army Staff College |
| 1931 | Major | Intelligence section, Kwantung Army |
| 1935 | | Staff, Kwantung Army |
| 1936 | | Army General Staff |
| 1937 | | 2 Division |
| 1937 | | Chief of staff, 2 Depot Division |
| 1937 | Colonel | Commander, 43 Regiment |
| 1939 | | Head, Japanese Military Mission, Manchukuo |
| 1940 | Major general | Commander, 29 Brigade |
| 1941 | | Commander, Infantry Group, 29 Division |
| 1941-12-1 | | Chief of staff, 1 Army |
| 1943-10-23 | Lieutenant general | Commander, 55 Division |
| 1945-7-9 | | Chief of staff, 39 Army |
| 1945-7-14 | | Chief of staff, 18 Area Army |
| 1946 | | Retires |
| 1957 | | Dies |
References
Generals.dk (accessed 2007-12-25)
---